3pm Pick Ups own Bec Judd is encouraging Aussies to dig deep and donate to bushfire relief.
Posting on her Instagram stories she said it was "Un-Australian" to do nothing in this awful situation.
"We had a bit of difficulty donating via our iPhones this morning but managed to get through via laptops/iPad," she wrote.
She then shared a quote from another insta user @flatoutmums "Doing nothing and being a bystander in this ongoing and awful situation is UNAUSTRALIAN."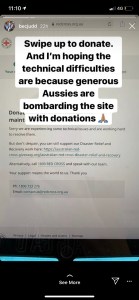 There's plenty of ways to donate to the relief:
Gippsland Emergency Relief Fund
Donate online: gerf.org.au
Donate by money order or cheque:
Gippsland Emergency Relief Fund
P.O, Box 508
Traralgon, VIC, 3844
Australian Red Cross
Donate online: redcross.org.au
Donate by phone: 1800 733 276
The Salvation Army
Donate online: salvationarmy.org.au
Donate by phone: 13 72 58
Foodbank Victoria
Donate online: foodbankvictoria.org.au
For those wishing to donate to animal causes there's
WIRES
https://www.wires.org.au/donate/now
Rescue Collective
https://www.facebook.com/therescuecollective/
And also, Mosman Collective are asking anyone with a spare room to help billet displaced Aussies during this crisis.