An Australian woman has recently shared a photo online of her 'working from home (WFH)' set up and we are living for it.
She's living in 2070 while we're all here living in 2020.
There's been a trend online recently where people are showing off their WFM "office" and they're hilarious and bizarre.
Standing desk flex pic.twitter.com/YqtGbnlVAc

— Brad Cahoon (@iambradcahoon) March 13, 2020
Recycling too. pic.twitter.com/ECkRS0AnYs

— Habtom (@habtom) March 13, 2020
"Not really a hack but bought the Kmart folding tray today. It's perfect to sit my laptop on whilst I'm in bed. Also could be used as a cheese platter! So obsessed!"
She commented with her picture on facebook group 'Kmart Hacks and Decor'.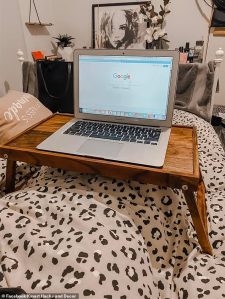 The post garnered some attention with multiple other people claiming they bought one that day to do the same.
And you know what, excuse me… I'll be right back…I have to go get something.
You can buy this bad boy online or in person for just $15 bucks!