Spoilers Warning: This article contains spoilers from yesterday's MAFS episode.
Hellfire rained down on MAFS last night during the dinner party and I was appalled, shocked, frustrated and yet my eyes were glued to the tv.
There was a lot to take in and this might have been the most memorable MAFS dinner party ever. Yes, even more memorable than Cyrell throwing her wine.
This dinner party. Where am I looking? What is going on? #mafs #mafsau pic.twitter.com/7jmfjmrJZL

— Ira Snave (@IraSnave) March 10, 2021
Let's start with Russell's toe-socks. I don't have anything to add, just wanted to emphasise that he was wearing toe-socks for this whole fiasco.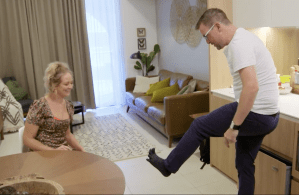 Anyway, moving on.
Coco wore a skin-tight, sheer black bodysuit, and wow. She ROCKED it! But do you think the rhinestones were stabbing her when she sat down? Either way, her confidence is inspiring and if I looked like that, I'd be wearing it to Coles.
Coco and Cam's little romance was as subtle as a brick through a window. I've never seen so much finger chewing in my life. But boy, did that scandal backpedal quickly.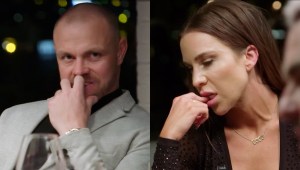 From Coco saying "I think there's someone here I'm more suited for me" to "THERE'S NOTHING THERE'. I'm sorry, but did I miss something? Were they not just making love-eyes at each other 5 seconds ago?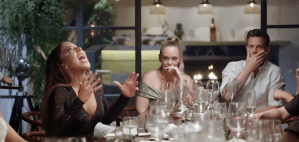 But the main event was Bryce and Sam's fight. Bryce went into the dinner party seeing red for Sam because of his 'disrespect for women'. He said wanted to 'fly the flag for what's right' and I mean…what in the double standards?! I think he's been plotting his revenge ever since the first episode when Sam told him he looked nervous.
Points to Sam for his creative insults:
"You are that ugly", "Okay gonzo", and my personal favourite "You've got the personality of a doormat and that's an insult to doormats."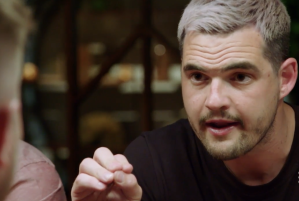 It was like watching your siblings fight. It was super disappointing that Bryce had zero care for Melissa during his outroar.
Bryce gave himself an idea when he said "What's he gonna do, throw a bottle of wine like that chick a few years ago?" 20 minutes later Bryce threw a glass of water at Sam and then had the audacity to tell Sam "You're an absolute embarrassment."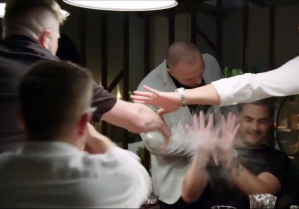 Look, they both suck, this dinner party was a mess and I need a long nap after watching the debacle.
Want more? Here's one of our favourite moments from Robin Terry & Bob!