That's the name of the absolutely HUGE event being put together by none other than Lady Gaga to help raise funds to fight the coronavirus pandemic
The benefit show is set to bring together some of the biggest names in the music biz in order to raise funds for the COVID-19 Solidarity Response Fund for the World Health Organisation (WHO).
Gaga has already helped raise $35 million in support of WHO, but why stop there? Partnering with Global Citizen, these are just some of the names of people that will appear in the benefit show:
Analis Morisette, Andrea Bocelli, Billie Eilish, Billie Joe Armstrong, Chris Martin, Eddie Vedder, Elton John, FINNEAS, J Balvin, John Legend, Kacey Musgraves, Keith Urban, Lizzo, Maluma, Paul McCartney and Stevie Wonder. David Beckham, Idris Elba, Kerry Washington, Priyanka Chopra Jonas and more will also appear.
The special will be hosted by talk show hosts Jimmy Fallon, Jimmy Kimmel and Stephen Colbert.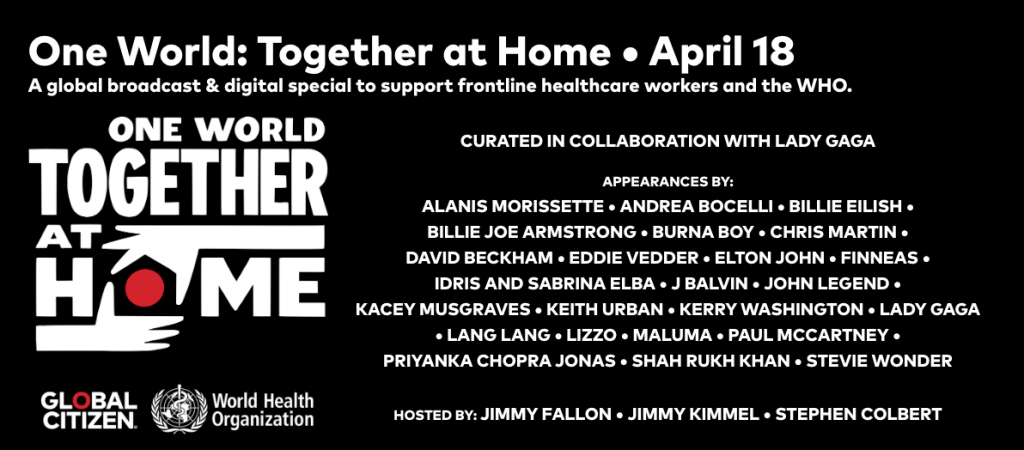 Literally, can this thing get any bigger?!
As well as raising funds, the special is set to celebrate our brave healthcare workers on the frontline, risking their own lives to save others, as they come together to share some of their unique stories.
We may have to be apart physically for a while, but we can still come together virtually to enjoy great music. The One World: Together At Home concert represents a powerful show of solidarity against a common threat," said Dr. Tedros Adhanom Ghebreyesus, Director-General of the World Health Organization about the event.
You can tune in from Australia on Sunday 19 April from 10am AEST. For ongoing updates on Australian tune in details please follow Global Citizen Australia @glblctznAu on Twitter, Facebook, and Instagram.
The whole thing can be streamed from the comfort of your own home through numerous online channels, including iHeartRadio!
Find out more details about the One World: Together At Home event here.