One of the most brutal comedians ever to host the Golden Globes is coming back!
Ricky Gervais has been announced as the ceremony's host for a record fifth time in January.
"Once again, they've made me an offer I can't refuse," Gervais said in a statement.
"But this is the very last time I'm doing this, which could make for a fun evening."
He takes the fifth! @rickygervais will resume hosting duties for a record fifth time at the 77th Annual Golden Globe® Awards on Sunday, January 5, 2020 from The Beverly Hilton in Beverly Hills, California! pic.twitter.com/ewYaHmVFyt

— Golden Globe Awards (@goldenglobes) November 12, 2019
The 58-year-old's past performances have copped criticism after dividing audiences with his scathing comedic style, taking aim at Hollywood's A-listers.
"I hope I haven't offended anyone.
"It's not my fault.
"I like a drink as much as the next man.
"Unless the next man is Mel Gibson."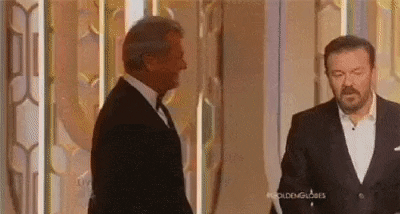 Gervais, a multiple Golden Globe winner himself, has hosted the the ceremony for three consecutive years from 2010-2012, and returned in 2016.
The 77th annual ceremony will take place on January 6 (Australian Time)
Here's one of our favourite moments from Robin Terry & Kip!