Following on from the incredible success of Fire Fight Australia concert in Sydney, it's just been announce that another massive bushfire relief tour is heading Down Under next month.
Miley Cyrus has just been announced to headline a show called Wold Tour Bushfire Relief charity concert in Melbourne at Australia's Lakeside Stadium on March 13.
The one-night-only event sponsored by AgBioEn will also feature performances from Lil Nas X, The Veronicas and DJ Seb, with all funds set to go to help restore forests, wildlife, and rebuild communities impacted by the recent bushfires.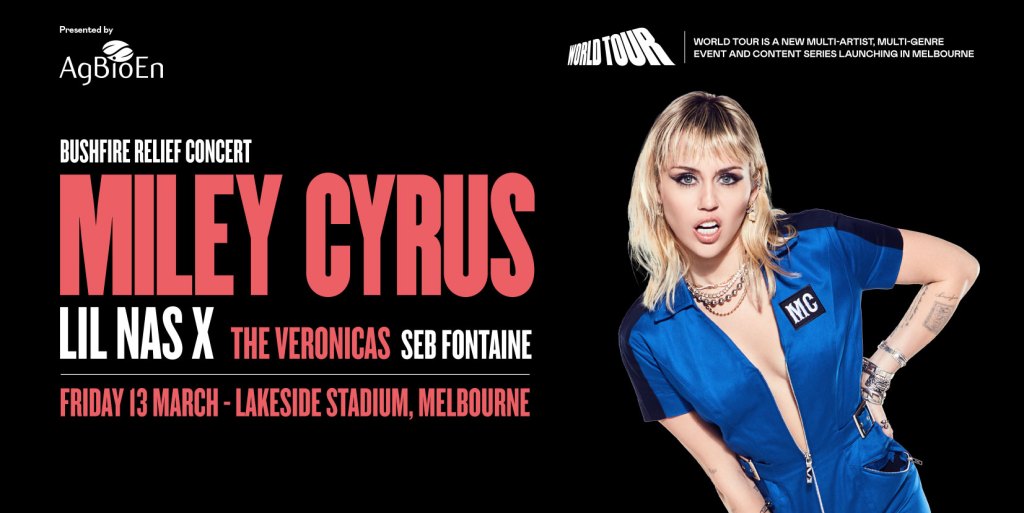 Proceeds from the event are set to go directly to The WWF Australian Wildlife and Nature Recovery Fund, and The Foundation for Rural and Regional Renewal.
Tickets are going on sale Tuesday 25th February at 2pm AEDT at ticketek.com.au.
The World Tour Bushfire Relief charity concert will take place one night prior to the previously announced World Tour Saturday show – at which International superstar Robbie Williams will headline on Saturday 14th March, 2020 at Lakeside Stadium in Melbourne, Australia. Tickets for that show can be purchased at ticketek.com.au.
Here's one of our favourite moments from Robin Terry & Kip!