It kinda feels a bit like Déjà vu in the world of Miley Cyrus and Liam Hemsworth at the moment.
Last time they broke up the pair had been engaged for about a year before calling it quits. Shortly after, Miley went on a bit of a crazy bender and released her break up anthem, Wrecking Ball. (Which if you think back, involved her riding and licking a wrecking ball completely naked in the music video).
While Miley and Liam eventually found their way back to each other and were actually married in an intimate ceremony in December last year, things didn't end happily ever after.
On Sunday, it was announced that Miley and Liam had broken up once again, with a rep confirming the split.
"Liam and Miley have agreed to separate at this time," the rep said in a statement.
"Ever-evolving, changing as partners and individuals, they have decided this is what's best while they both focus on themselves and careers. They still remain dedicated parents to all of their animals they share while lovingly taking this time apart. Please respect their process and privacy."
While we've already seen Miley transition back into those party-girl ways, the real Déjà vu moment is that it seems that Miley might just be working on new music once again!
Taking to her Instagram story, Miley posted a picture of herself behind a microphone and wearing headphones in what appears to be a recording studio.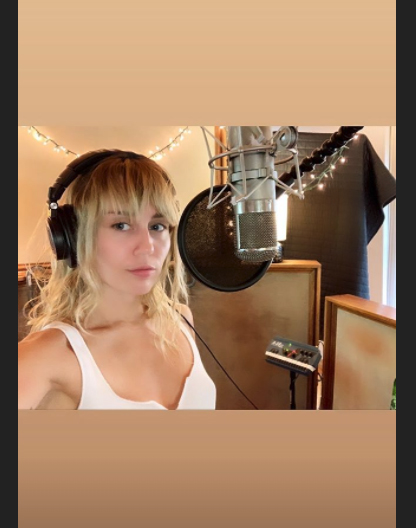 No doubt she's certainly got a lot of inspiration to put into a song at the moment…
But it also wouldn't be too surprising for Miley to be working on new music. Having previously released She Is Coming, it's reported that this is just one of three EPs on the way that will each tell a different story and form a full-length record called She Is Miley.
Here's one of our favourite moments from Robin Terry & Kip!