It's the news we needed in our lives. Finally, we can appreciate the creative genius' that Mouse Rat is, the fictional band in Parks And Recreation, because they're releasing an album and it will most likely be the best album of all time.
If you haven't watched Parks and Rec, please save this link and go binge the entire 7 seasons now, it's 100% worth it.
But if you have then bring out the confetti cannons, set off the fireworks, have a council-approved street party because the infamous Mouse Rat is releasing an album entitled 'The Awesome Album', named rightfully so. It will be released on August 27.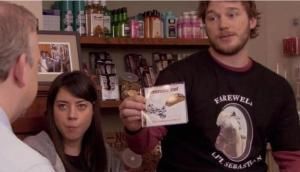 The band, originally led by Chris Pratt who played Andy Dwyer in Parks And Rec, was the go-to band in the show. The album was announced on Wednesday, on the 10th anniversary of the show's memorial for Li'l Sebastian, the miniature horse and the heart of the series until his shock passing. Li'l Sebastian's tragic death led to the memorial song '5,000 Candles In The Wind (Bye Bye Li'l Sebastian)'.
Perd Hapley (Jay Jackson), the iconic news anchor of 'Ya Heard? With Perd' released a Cameo announcing the album.
The album is to be released via DualTone and Entertainment 720, the fictional company created by Tom Haverford (Aziz Ansari).
The tracklist lives up to all our expectations featuring their hit songs from Parks And Rec. We'll soon be hearing bops such as '5,000 Candles In The Wind (Bye Bye Li'l Sebastian)', 'Sex Hair' and 'The Pit', inspired by Pawnee's giant sinkhole in Season 1.
You want some smooth sax with that? Expect it! The jazz great, Ron Swanson aka 'Duke Silver' (Nick Offerman) will feature in 'Catch Your Dream' (Feat. Duke Silver).
Have a look at the full tracklist:
01. "5,000 Candles In The Wind (Bye Bye Li'l Sebastian)"
02. "The Pit"
03. "Sex Hair"
04. "Catch Your Dream" (Feat. Duke Silver)
05. "Two Birds Holding Hands"
06. "Ann Song"
07. "The Way You Look Tonight"
08. "Menace Ball"
09. "Remember"
10. "I Get A Kick Out Of You"
11. "Lovely Tonight"
12. "I've Got You Under My Skin"
13. "I Only Have Eyes For You"
14. "Pickled Ginger" (Performed By Land Ho!)
15. "Cold Water" (Performed By Land Ho!'s Scott Tanner w/ Dick Silver)
Now, let's pause for a moment to remember Li'l Sebastian…
Here's one of our favourite moments from Robin Terry & Kip!