If you get an email from Netflix saying your "subscription has been cancelled", delete it.
Thing is, the email looks super authentic, with the username and branding looking like they totally check out.
The scam goes like this:
Email recipients are told their "Netflix subscription has been cancelled" and provides a link for reactivation.
Clicking on the link takes users to a page that is almost identical to Netflix's actual login page.
The user then enters their account info and are then taken to another page which asks for the payment for 'reactivation' of the streaming service.
Unwittingly, the user completes the steps, including entering their credit card details, which goes straight to the scammers.
But back to the email.
While it looks ridiculously authentic, some of the red flags that should get your BS-o-meter pinging.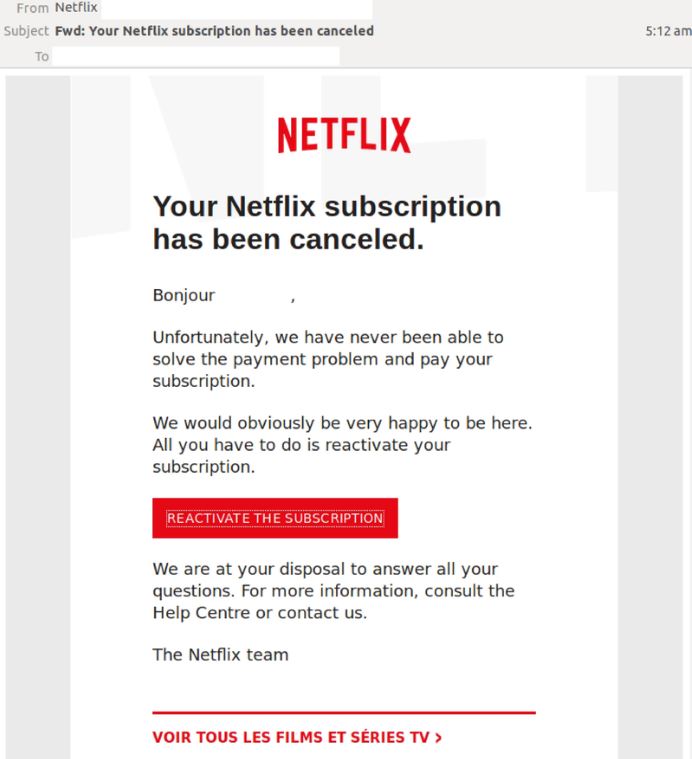 "There are several grammatical errors within the body, such as 'we have never been able to solve the payment problem'," security service MailGuard told Nine News.
"There is also a footer containing instructions in French at the end of the email."
Also, the casual use of 'Bonjour' as an opener is a little out of place, but yeah, the wording throughout the email is a hot mess.
All you need to do is delete the email without clicking any of the links.