Let's be real, KFC is the most adaptable food in the world.
You can make some real GOURMET realness with that chicken and they encourage it!
I can't believe this didn't occur to me, it seems so obvious in hindsight…
KFC Popcorn Chicken Nachos!
Little bites of juicy seasoned popcorn chicken, beans, CHEESE, crunchy corn chips… oh boy.
Here's the recipe they dropped themselves.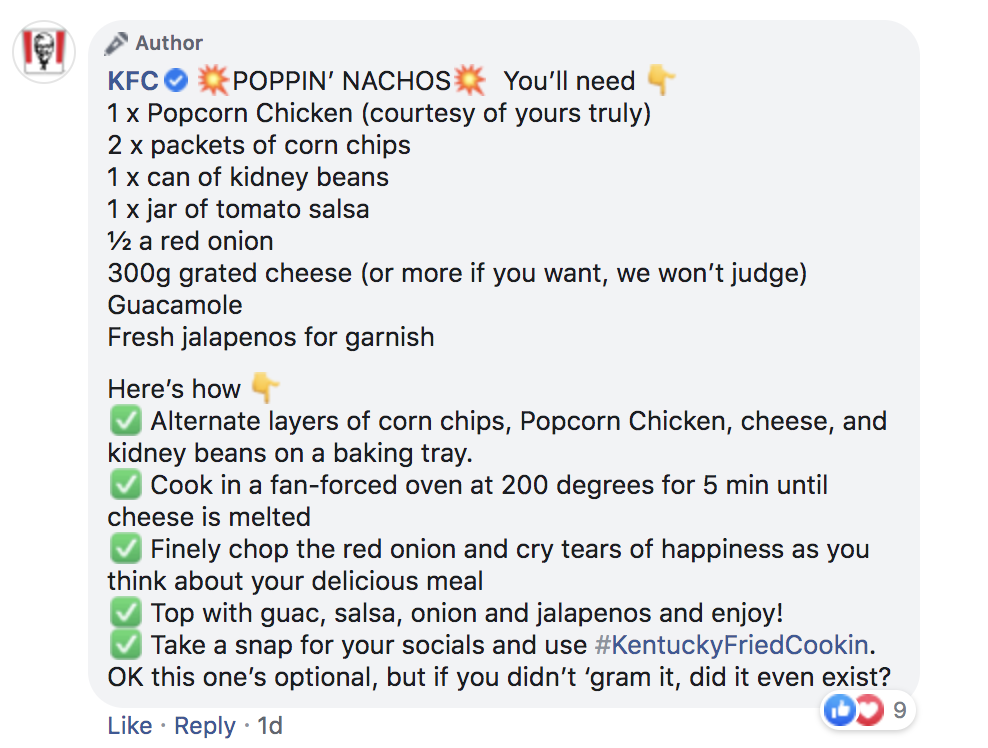 Ingredients:
KFC Popcorn Chicken
2 Packets of corn chips
1 can of kidney beans
1 jar of tomato salsa
1/2 a red onion
300g of grated cheese ( bi***- double that if you're being honest with yourself)
Guacamole + Jalapeños for topping!
Method:
Alternately layer corn chips, popcorn chicken, cheese and beans on a lined baking tray.
bake at 200 degrees for literally 5 min (keep an eye on that cheese, you want it to be melted not burnt)
Chop up the red onion as finely as you can!
Top the bad boy with guac, salsa, onions, jalapeños or whatever you want to be honest, you CANNOT go wrong with nachos.
Voila!
fancy af Nacho el la KFC Popcorn Chicken.
Here's one of our favourite moments from Robin Terry & Kip!