If one thing is for sure, it is that Aussies love a good chicken parmigiana. That big piece of fried chicken, delicious cheese and sauce… and now I'm hungry.
If you find yourself smashing down one of these bad boys every week, we've got some great news for you.
McDonald's are planning an expansion of their chicken menu and it could include the burger of your dreams… the Parmi Burger
The burger is just like it sounds – crispy fried chicken, bacon and parmigiana and cheese sauce.
That's not all. We could also be munching on the Asian-inspired Terikayi Burger in the future! Yep, it's a thing.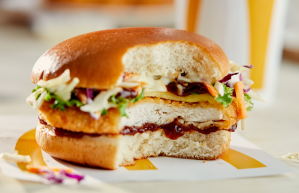 The new chicken range also includes new Spicy Shaker Tenders, Chicken Salt Shaker Fries and a Chicken Pickle Burger.
Sadly, most of Australia won't be able to get their hands on it for a little while as the new range is being trialled only in South Australia. Lame.
If you are craving something new, you can check out Maccas' new Spicy Range, which includes variations of McChicken, including Spicy Mayo, Jalapeno and Sriracha
In the meantime, South Australia, the future of Maccas is in your hands! Don't let us down!
Here's one of our favourite moments from Robin Terry & Kip!