We really do be livin' for these limited edition Krispy Kreme collabs.
Today we're introducing the Maltesers® Doughnut.
It'll be available at all Krispy Kreme locations from today (3rd of March) and from 7-Eleven stores from Friday 6th March!
So here's what it's all about –
It's an Original Glazed doughnut coated in smooth, gooey milk chocolate ganache with a crunchy Maltesers to top it all off.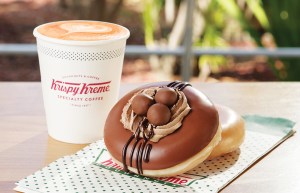 I don't want to encourage too much gluttony but HOW CAN YOU RESIST and to make matters worse, you'll be able to order them from UberEATS.
You can snikkity snack on these for $3.60 a pop or $28.95 for a dozen!
Pray 4 us all
Here's one of our favourite moments from Robin Terry & Kip!