It was only available in London for so long but it's finally here my dudes and it's double trouble…to my waistline.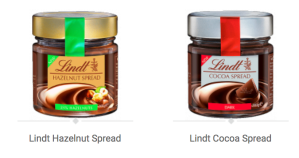 TWO flavours will be sold at Coles from March apparently but damn it's gonna cost you.
They're selling at $10 a pop, which doesn't sound so bad considering but that is DOUBLE the price of Nutella. What the hell guys!
The two flavours are Lindt 25% Hazelnut Spread and Lindt Cocoa Spread. So one will be a nutty, expensive knock-off of Nutella and one will be similar to a tub of melted, dark chocolate Lindt balls….
*DROOL*
Get in me.
Here's one of our favourite moments from Robin Terry & Kip!