School lunches are a massive effort. You make a yummy sandwich, chuck some fruit in, maybe a cheeky snack for later… just so your kids can make it through the day!
Unfortunately for some, there isn't a global rule about what you can give school children. This means many parents end up being 'lunchbox-shamed' if their offering isn't up to the standards of others.
We are only a couple of days into the school year and a mother has already found herself down the barrel of complaints when she shared a photo of her children's lunch into a Facebook group.
So what's in the box? One sandwich, grapes and blueberries, 12 pretzels, a lamington finger, five crackers with five slives of cheese and a packet of chips. On some days, the kids might get a piece of watermelon or other fruit too. What a feast!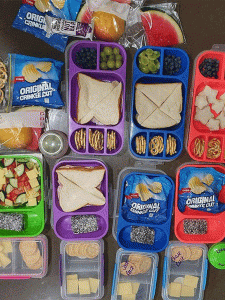 The other parents on the group came in swinging about how much food the mother packed, with the overarching theme being that it would be too much to eat.
One parent questioned how much time they would have to play if they were too busy eating, and another explained that the lunchbox with the sandwich is enough to suffice her kids.
Each to their own, we say!
Here's one of our favourite moments from Robin Terry & Kip!