Christmas has arrived early at Woolworths, with the supermarket launching TEN new products for a limited period.
The products include a ready to bake Brie Wreath, a handcrafted Christmas Coquembouche and a free-range chicken parcel that is complete with a cranberry and almond stuffing.
These are the full list of products that you can now get in your local Woolies, but it's strictly only while stocks last.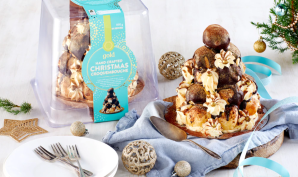 Gold Christmas Croquembouche – $30
Gold Free Range Chicken Parcel with Cranberry & Almond Stuffing and a Cranberry Orange Glaze – $24
Gold Easy-carve Lamb Leg Roast with Fig & Rosemary – $22/kg
Gold Free Range Turkey Breast Roast with Spiced Pink Lady Apple Stuffing and an Apple & Berry Glaze – $25
Macro Free Range Boneless Breast Roast with Apricot & Almond Stuffing and Free Range Bacon – $22
Woolworths Pork Crackling 100g – $5.50
Woolworths Pork Porchetta- $18/kg
Woolworths Ready to Bake Brie Wreath Pull-Apart -$15
Woolworths Honey Cinnamon Glazed Hasselback Butternut with Pistachios & Cranberries – $7
Woolworths Duck Fat Roast Potatoes with Fresh Sage & Truffle Salt – $6
AMAZING!