You've heard of ghosting but have you heard of zombie-ing?
Apparently it's a thing now, where old flames randomly re-appear in your dm's after a solid effort of previous ghosting.
*Shudders*
A woman recently shared her wild story on instagram, take your mind back to 2011, a different time, a different era, a different breed of men…actually scratch that.
A man slides into your dm's with a casual "hey gourgeus, how are ya?😉"
Gorgeous was spelt differently back then as you can see.
To which she replies " Hay -insert name here- 😊I'm good thanks. What you been to?
A normal reply.
Which didn't see the light of day for 8 years.
Until this STRANGE MAN (it had to be said) decided to reply, not even to hit her up again which would be acceptable if slightly creepy, but just to let her know he just got her message.
His phone needed an update.
For 8 years
Wow.
Don't even know what to say.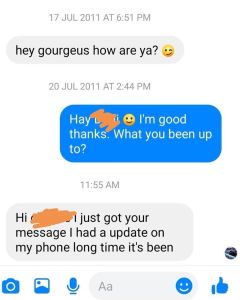 Here's one of our favourite moments from Robin Terry & Kip!