Warning: Graphic Content
A woman has been left covered in blood after a horrific attack on her dog in a Melbourne Park yesterday.
Kashila Chintamunnee took to social media to share photos of the terrifying incident that happened in Pakenham around 11am Tuesday.
Ms Chintamunnee could only watch in horror as her 4 year old dachshund was mauled to death by another dog.
"She let go of her bloody dog and watched as it all happened," she wrote on Facebook.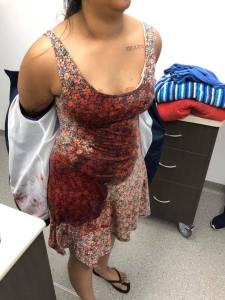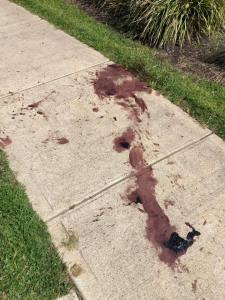 Ms Chintamunee rushed her dog to two nearby vets that were closed, and as she was on her way to a third, dachshund Coco sadly died.
"My father opened our gate and Coco ran outside and had a sniff of the other dog … and he started mauling my dog," Ms Chintamunnee told The Cranbourne Leader.
"The dog had bitten too deep into Coco's main vessel as he had lost that much blood – I was drenched in his blood that's how much there was."
She has reported the matter to the Police and Council.